Woodtick Laundry
was in the town of
Woodtick
on
Scabb Island
. It was run by
Mad Marty
.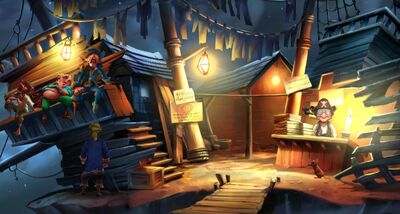 They were able to extract:
Three pirates who claimed to be performing a great philosophical piece sat at the bow of the ship, while their rat ran about the deck.
This was another of the businesses to suffer from Largo LaGrande's tyranny. He would demand free speedy service when he needed it.
Guybrush Threepwood used the laundrette to claim the clothes of Largo LaGrande after retrieving the claim ticket in order to do so. He could also spend some time washing scary Frank's pegleg with Wood Polish in order to earn up to 19 Pieces o' Eight.
Not responsible for:
Stains left on clothing
Lost buttons
Lost Hooks
Finally:
Will not clean leather
Will clean your parrot
Notable Loot
Edit
The Laundry is visitable in the "MI2 Lite" mode, but there is nothing to do there, other than talking with Marty and the Pirates..
Ad blocker interference detected!
Wikia is a free-to-use site that makes money from advertising. We have a modified experience for viewers using ad blockers

Wikia is not accessible if you've made further modifications. Remove the custom ad blocker rule(s) and the page will load as expected.