The Voodoo Cannonball was a cannonball flaming with green voodoo magic created by LeChuck.
It was originally intended to detonate the walls of Elaine's fortress on Plunder Island. Its destruction came when Guybrush Threepwood fired a cannon below deck after having cut its restraint rope. The blast shook the ship and forced LeChuck to drop the cannonball, causing it detonate, eliminating his zombie form and causing the ship he's sailing on, the Death Starfish, to capsize.
Appearances
Edit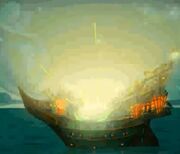 Ad blocker interference detected!
Wikia is a free-to-use site that makes money from advertising. We have a modified experience for viewers using ad blockers

Wikia is not accessible if you've made further modifications. Remove the custom ad blocker rule(s) and the page will load as expected.