Voodoo and Things, formerly known as just Voodoo, was the title of the Voodoo Lady's shop in the swamp in Plunder Island (like the International House of Mojo on Scabb Island).
Voodoo and Things was located in the hold of a ship that had somehow managed to get stuck on the trees of the swamp. Guybrush Threepwood speculated that the ship could well have been thrown in place by a typhoon.
Flyers were sent around Puerto Pollo reading:
"Feeling down 'cause your chick's turned to gold? Come to the swamp! Get your fortune told! Voodoo 'n' Things. (Formerly Just Voodoo. Visit our new location on Plunder Island.)"
Notable Loot
Edit
When the Voodoo Lady told Threepwood that she was preparing a fondue, he asked if there were any skink toes in it. This is referring to her stock in MI2.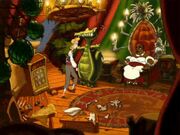 Ad blocker interference detected!
Wikia is a free-to-use site that makes money from advertising. We have a modified experience for viewers using ad blockers

Wikia is not accessible if you've made further modifications. Remove the custom ad blocker rule(s) and the page will load as expected.