The International House of Mojo is the Voodoo Lady's chain of stores. At least two can be found in the Tri-Island Area. It was first seen in The Secret of Monkey Island.
Mêlée Island Store
Edit
Secret of Monkey Island
Edit
This was the place that the Voodoo Lady first met
Guybrush Threepwood
and helped him on his journey to become a pirate and defeat the ghost pirate
LeChuck
.
The store specialised in Voodoo items, though Threepwood was able to get a rubber chicken with a pulley in the middle there.
The Voodoo Lady sat on a throne in darkness until someone approached and she would then reveal herself. She used a cauldron within the store to read the future.
Notable Loot
Edit
Escape from Monkey Island
Edit
In Escape from Monkey Island it had had an interior redesign.
Instead of sitting in darkness, the Voodoo Lady was revealed when a customer pulled the correct finger on a strange hand shaped chair.
Scabb Island Store
Edit
The shop is located in the swamp of Scabb Island in the east. Access is only available by rowing a coffin through the bog.
Here again the Voodoo Lady sits in darkness until approached. The rest of the store is occupied with display model jars of voodoo items. The store is suffering from being taxed large amounts of its profit by
Largo LaGrande
. Guybrush Threepwood purchases the potion
Ash 2 Life
there.
It appears in Monkey Island 2: LeChuck's Revenge.

Stock included:
Ash-2-Life 'The Un-cremating Cream'
Cat De-wormer
Skink Toes
Eau d'Mojo 'The delightful aroma of Voodoo Captured in a delightful potpourri'.
Wart Remover
Bat Wax
Fruit Cocktail - In Heavy Syrup
Spider Lungs
Golden Tongue 'The five day treatment plan that helps you talk to women'
Tender-touch Pirate Powder 'Prevents stump chaffing and eye-patch rash'
Bound Editions of Voodoo Quarterly
Notable Loot
Edit
Voodoo and Things
Edit
The Voodoo Lady also keeps a store on
Plunder Island
called
Voodoo and Things
again choosing a swamp location. It is unknown whether this is an official part of the House of Mojo chain.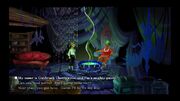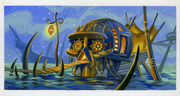 Ad blocker interference detected!
Wikia is a free-to-use site that makes money from advertising. We have a modified experience for viewers using ad blockers

Wikia is not accessible if you've made further modifications. Remove the custom ad blocker rule(s) and the page will load as expected.