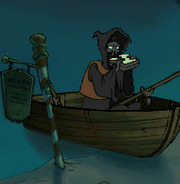 The Flying Welshman is a mysterious ferryman that spent most of his time ferrying people between the islands Blood Island and Skull Island, organizing haunted tours and whale-watching excursions. He was later referred to as the Lost Welshman, after the lighthouse on Blood Island stopped functioning, leaving him trapped in the accursed mists.
Interaction
Edit
When Guybrush needed to travel to Skull Island, he learned the story from Griswold Goodsoup. He needed a way for the Welshman to reappear. Guybrush then had to find a way to fix the lighthouse. Once that was sorted out, the Welshman would finally find his way and appear on shore. However, he refused to help him until he had a working compass. Thanks to science, Guybrush figured a way to create a simple navigational tool, thus granting him passage to Skull Island.
Once on Skull Island, the Welshman warned Guybrush not stare at the Island's head, for he feared he would tremble at its terrifying visage. As it turned out, the rock formation on top of the island looked more like a duck. The Welshman complained that the place brought him the creeps but would wait for Guybrush to return.
After Guybrush retrieved the Goodsoup Family Diamond from King André, he asked the Welshman to take him back to Blood Island, and both agreed they would never return.
After his services are no longer needed, the Welshman wished Guybrush well, as he would be leaving for Scabb Island after hearing about an opening for a chef there. After he left, Guybrush realised that his makeshift compass (a magnetized needle floating in a cork in a cup of water) would only retain its magnetic properties for a short while.
It is unknown what fate befell the Welshman.