The Bloody Lip
was the name of a bar and grill, located in
Woodtick
. It was owned and run by the
Barkeeper
.
They sold a selection of alcoholic drinks and chilled gourmet soups.
Known Staff
Edit
Known Patrons
Edit
Notable Loot
Edit
Guybrush can ask to be served by saying "Grog please, shaken not stirred." This is a reference to James Bond, who asks for his martinis served in this way.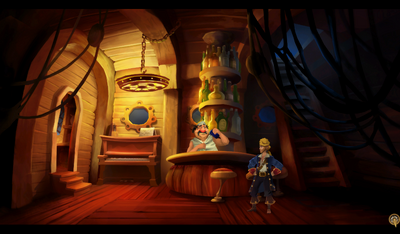 Ad blocker interference detected!
Wikia is a free-to-use site that makes money from advertising. We have a modified experience for viewers using ad blockers

Wikia is not accessible if you've made further modifications. Remove the custom ad blocker rule(s) and the page will load as expected.