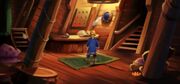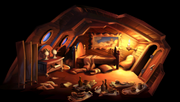 The Swamp Rot Inn was a hotel in Woodtick. It provided all the comforts of the sea but only had one room. It was run by the Innkeeper. A small alligator named Pegbiter was kept by the owner as a pet.
During his time on the island the one room was occupied by Largo LaGrande, which was a mess infested with cockroaches.
Notable Loot
Edit
Ad blocker interference detected!
Wikia is a free-to-use site that makes money from advertising. We have a modified experience for viewers using ad blockers

Wikia is not accessible if you've made further modifications. Remove the custom ad blocker rule(s) and the page will load as expected.