Slappy Cromwell
Talk

0
625pages on
this wiki
Slappy Cromwell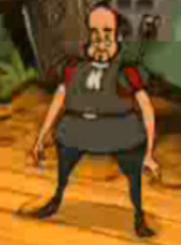 Slappy Cromwell was the stage name of Rex Fortune, Adventure Seeker. He was an actor who played a part in the stage production, SPEARE!, which was being performed at the Long John Silver Center for the Performing Arts on Plunder Island.
Before moving to Plunder Island he had performed in dinner theatres on Blood Island.
Originally he performed Shakespeare's plays as intended, but due to lack of interest from the vastly pirate population of the Tri-Island Area he attempted to rewrite the works into a fortyfive minute revue. He called it SPEARE!: A Theatrical Medley, however, the reworked script mostly had comedic elements including knock knock jokes and juggling acts. During his performance on Speare!, he worked with another actor, who was a large man wearing a pink dress, who played Juliet.
His agent Palido Domingo was responsible for the decision to change his name, believing that his birth name did not have star appeal. He had been with the actor on Blood Island. They most likely moved because the hotel there lost its popularity.
After the run of Speare Slappy left his contract torn on the floor with a message scrawled on it:
"To my agent, Palido Domingo: Palido, this is the worst booking you've given me since that fire-walking fiasco on Blood Island. I quit! Sincerely, Slappy Cromwell."