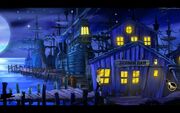 The Scumm Bar was a bar located near the entrance of the town on Melee Island.
It was divided into a large bar room and a kitchen with a small dock outside of the back exit.
Appearances
Edit
The Secret of Monkey Island
Edit

The Scumm bar was where the
Pirate Leaders
spent their time. It was full until
Govenor Marley
was kidnapped.
Notable Loot
Edit
Escape from Monkey Island
Edit
At this time the Scumm Bar was owned by Ignatius Cheese.
After returning from Lucre Island, the Scumm Bar was taken over by Ozzie Mandrill and became a tropical themed restaurant called the Lua Bar.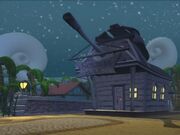 The Scumm Bar is named after the SCUMM engine, the game engine used in the first three Monkey Island games. It was first made for Maniac Mansion in 1987.
Ad blocker interference detected!
Wikia is a free-to-use site that makes money from advertising. We have a modified experience for viewers using ad blockers

Wikia is not accessible if you've made further modifications. Remove the custom ad blocker rule(s) and the page will load as expected.