Scabb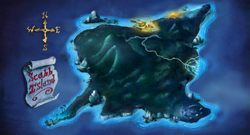 Scabb Island

Scabb Island is an island in The Tri-Island Area. According to a book in the Phatt City Library, Scabb was first settled as a quarantine island for skin diseases. It later became a haven for pirates as there were no governors or any other authorities, the only island where Pirates were free to be pirates. Notably, after the death of LeChuck, his henchman Largo LaGrande became the local bully and the only form of "authority"; he imposed an enormous tax fee, forcing anyone who arrived on or left the island to pay out large sums of money.
Guybrush Threepwood visited this island while looking for Big Whoop but he realised he had no way to leave unless he got rid of Largo and his infamous embargo.
Interest Points
Edit
See Also
Edit
Ad blocker interference detected!
Wikia is a free-to-use site that makes money from advertising. We have a modified experience for viewers using ad blockers

Wikia is not accessible if you've made further modifications. Remove the custom ad blocker rule(s) and the page will load as expected.