Reginald Van Winslow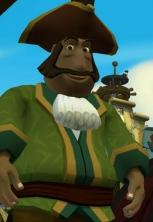 Reginald Van Winslow (or Winslow) was formerly the captain of the Screaming Narwhal who would later become the lone crewmember working for Guybrush Threepwood. He has an obsession with maps.
Winslow was chosen (or chose himself) as Guybrush Threepwood's first mate on the Narwhal after Guybrush knocked him off with a mini-bomb.
He ultimately ended up with Anemone.
Appearances
Edit