Reginald Van Winslow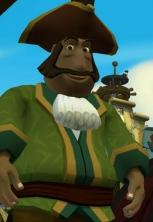 Reginald Van Winslow (or Winslo) was formerly the captain of the Screaming Narwhal who would later become the lone crewmember working for Guybrush Threepwood.
Winslow was chosen (or chose himself) as Guybrush Threepwood's first mate on the Narwhal. He was a kind and helpful man after he saved guybrush from Elaine Marley.
Trivia
Winslow might be a refrence to a character in another of telltale's game series, Minecraft: Story Mode.
Appearances
Edit