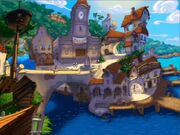 Puerto Pollo was a city on Plunder Island.
Some notable locations included:
A fountain in the city read:
"In memory of the chickens who gave their lives during the Great Puerto Pollo Potluck Jamboree of 1621."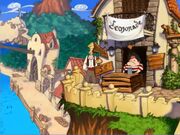 The town name is Spanish for Chicken Port, due to its population of feral chickens on the Island.
City Status
Edit
Plunder Island is at least considered a City by some as seen in the song Plunder on my Mind, in which it is referred to as such.
Ad blocker interference detected!
Wikia is a free-to-use site that makes money from advertising. We have a modified experience for viewers using ad blockers

Wikia is not accessible if you've made further modifications. Remove the custom ad blocker rule(s) and the page will load as expected.