Pieces o' Eight are the currency used throughout the Caribbean.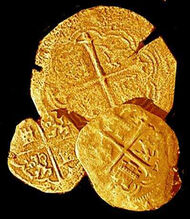 The Spanish dollar (also known as the "piece of eight" or the eight real coin) is the silver coin, worth eight reales, that was minted in the Spanish Empire after a Spanish currency reform in 1497. It was legal tender in the United States until an Act of the United States Congress discontinued the practice in 1857. Through widespread use in Europe the Americas and the Far East, it became the first world currency by the late 18th century. Many existing currencies, such as the Canadian dollar, United States dollar and the Chinese yuan, as well as currencies in Latin America and the Philippines are based on the Spanish dollar.
Ad blocker interference detected!
Wikia is a free-to-use site that makes money from advertising. We have a modified experience for viewers using ad blockers

Wikia is not accessible if you've made further modifications. Remove the custom ad blocker rule(s) and the page will load as expected.