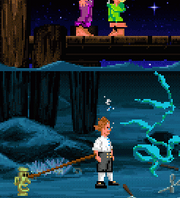 Nick was a pirate living on Mêlée Island while Guybrush Threepwood was completing his pirate trials. The color of his trousers, as well as that of his unnamed friend, are randomized for every gameplay.
He and his friend met each other on the Mêlée Island Docks while Threepwood was below drowning.
His friend had commited a felony and was questioning whether or not to throw his knife into the water in order to hide the evidence.
Nick tried to talk him out of it in case it washed up somewhere else. His friend chose not to in the end just in case he needed it again.
Ad blocker interference detected!
Wikia is a free-to-use site that makes money from advertising. We have a modified experience for viewers using ad blockers

Wikia is not accessible if you've made further modifications. Remove the custom ad blocker rule(s) and the page will load as expected.