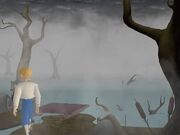 Swamp of Time is a location on Lucre Island. It was explored by Guybrush in Escape from Monkey Island, and was the hiding place of Pegnose Pete. To get to Pete's hideout, there's a piece of paper resemblant of a train schedule that's used as an assistant for venturing the Swamp.
Swamp of Time can be traversed by a wooden raft. Somewhere in the swamps, there's a half-sunk X-wing the film, from Star Wars (probably because Monkey Island is produced by Lucas Arts, and Star Wars is produced by Lucas Films) in the scene where the X-wing's landed, and is sinking on Dagobah (from Star Wars: The Empire Strikes Back).
l
Ad blocker interference detected!
Wikia is a free-to-use site that makes money from advertising. We have a modified experience for viewers using ad blockers

Wikia is not accessible if you've made further modifications. Remove the custom ad blocker rule(s) and the page will load as expected.