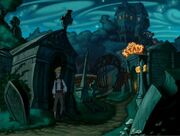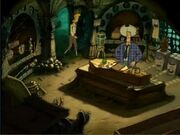 The
Mutual of Stan
was a life insurance firm owned by
Stan
, located within a crypt at the
Blood Island Cemetary
. It provides coverage, in the form of compensation resulting from loss, damages, injury, treatment and death. It had been originally conceived while by Stan while he was trapped within a coffin from his previous business venture,
Stan's Previously Owned Coffins
.
Stan wasted no time in setting up his office after he was freed by Guybrush Threepwood (who had originally trapped him there in the first place). For some inexplicable reason, he already prepared laminated business cards for his latest venture. The office itself contained what one would find from most offices, including file cabinets, a water cooler, coffee machine, and a specialized calendar. He used a coffin as a makeshift desk, which added a nice touch to the fairly grim surroundings. It should be noted that none of these items were interact-able.
Ad blocker interference detected!
Wikia is a free-to-use site that makes money from advertising. We have a modified experience for viewers using ad blockers

Wikia is not accessible if you've made further modifications. Remove the custom ad blocker rule(s) and the page will load as expected.