Mort the Gravedigger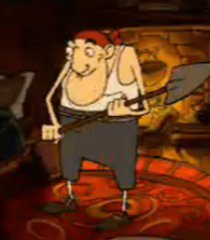 Mort was a gravedigger living in the cemetery of Blood Island. He owned a dog called Old Blind Pew.He was also a budding horror novelist, having written the first part of horror trilogy called The Grog that drank People. He also was a target of The Voodoo Kids for their Paper Voodoo Dolls. Guybrush pulled a pin from his paper voodoo doll relieving from the pain. He also could (unwittingly believing the doll to be just a toy) torture the gravedigger by using both the Pin and the Ember on a Stick and also scratch his back by using Murray's arm.
Later he were telling a joke to Griswold Goodsoup and buried Guybrush in the coffin in the Crypt believing him to be dead (though Guybrush was just unconscious from spiking grog with The Head-B-Clear). He does this again later but this time because Guybrush convinced Griswold to a member of the Goodsoup family, he gets buried in The Goodsoup Crypt instead. When Guybrush talks to him through a crack in the crypt leading to his hut, he refused to believe that Guybrush was locked in the crypt and thought that he is one of the local punks that pranked him, therefore refused to let him out of the crypt. Being into horror novels Guybrush tried to scare him into believing he is a ghost haunting the crypt. He does succeed with help from Murray and making a very convincing shadow puppet on Mort's wall, frightened Mort opened the crypt and before going away begs "the ghost" to leave him in peace.