The Lookout Point was a vantage site on Melee island, overlooking the main town. It consisted of a small campfire and stone walls.
It was necessary to pass by it when walking from town into the forest.
It is manned by an ageing pirate Lookout, who on his arrival told Guybrush Threepwood of the Important-Looking Pirates he must speak to before being declared a pirate himself.
Appearances
Edit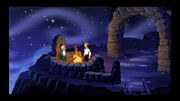 Ad blocker interference detected!
Wikia is a free-to-use site that makes money from advertising. We have a modified experience for viewers using ad blockers

Wikia is not accessible if you've made further modifications. Remove the custom ad blocker rule(s) and the page will load as expected.