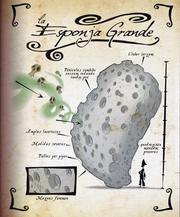 La Esponja Grande was a lost voodoo sea sponge capable of curing people afflicted by the Pox of LeChuck. Several characters want it for various reasons; Guybrush wants it to cure the pox from Elaine Marley in Tales of Monkey Island; McGillicutty to keep the powers he's gained from the pox, and Coronado DeCava as a gift for the Voodoo Lady.
Guybrush finds it in the Lair of the Leviathan. However, Coronado finds it at about the same time, and as a result the two of them must fight over it. However, after the sponge's feast for the senses, in The Trial and Execution of Guybrush Threepwood, the sponge lives up to its potential, filling the cavity of the ancient Vaycaylian wind device. Later on, Guybrush is required to minimise the sponge back to it's original size in order to free it from the voodoo it's absorbed, and therefore cut LeChuck's source of power. Doing so will release Elaine from her enslavery.
Ad blocker interference detected!
Wikia is a free-to-use site that makes money from advertising. We have a modified experience for viewers using ad blockers

Wikia is not accessible if you've made further modifications. Remove the custom ad blocker rule(s) and the page will load as expected.