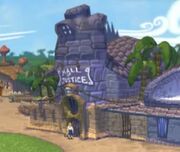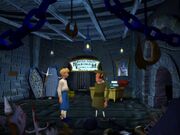 Hall of Justice was a building in the town on Lucre Island that acted as the island's jail and the office of Inspector Canard. Although it seemed to have only one jail cell, the building had a large number of torture devices.
Ad blocker interference detected!
Wikia is a free-to-use site that makes money from advertising. We have a modified experience for viewers using ad blockers

Wikia is not accessible if you've made further modifications. Remove the custom ad blocker rule(s) and the page will load as expected.