Haggis McMutton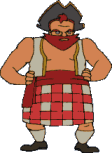 "This wind Captain! She's the Devil's own!"

Haggis McMutton of the Clan McMutton is a burly Scotsman with a thick accent. His given name was Heart Liver and Kidneys Boiled in the Stomach of the Animal McMutton, since his parents originally wanted a girl.
He called his sword Old Ironsides.
Biography
Edit
He served under Big Jake McJuggernaut who saught the treasure of Bulky Island. After ten years serving aboard the H.M.S. Anathema, he loved hairstying and told to his 2 best friends who in turn told to their 2 best friends and so on. Eventually he joined the Barbery Coast Barber Shop Quartet and began work as a "Bucaneer Hairstylist" alongside Cutthroat Bill and Edward Van Helgen in the Barbery Coast, a barber shop in Puerto Pollo.
He was known to cut hair so fast that his scissors would ocassionally fly from his hand at unbelievable speed. He doesn't believe in hair replacement and tampering with the course of nature.
Interaction
Edit
When Guybrush Threepwood first meets Haggis, he can be seen trimming Rene Rottingham's hair. When Threepwood was searching for a crew to sail with him, he asked McMutton who told him that he could not serve under a captain who had not proven his strength. In order to do so, Threepwood had to best him in a caber toss.
Threepwood was successful when he fooled McMutton by throwing a rubber tree rather than a normal caber.
On board The Sea Cucumber, McMutton seemed to take the role of First Mate.
When Cutthroat Bill, McMutton, and Edward Van Helgen reached Blood Island, they mutinied, admitting that they had enjoyed serving under Threepwood but felt the call to return to their jobs as barbers.
Guybrush traded with Haggis for his slippery greasy lotion with something to mend the ship.
He was present for the Marley/Threepwood wedding.
The barbershop will open after Guybrush speaks to the Voodoo Lady. When closed McMutton will be heard telling Threepwood to "come back later" if he tries to come in.
He serves to offer the player the option of challenging or easy ship combat. This is in case players would prefer not to have to play through the more action orientated Ship Combat segment.