Wanted Posters were put up around the Tri-Island Area when LeChuck put out a bounty on Guybrush Threepwoods head.
It depicted a young Guybrush with a crudely drawn on moustache.
It was updated whenever Threepwood committed a new crime.
One such poster on
Phatt Island
read:
WANTED: GUYBRUSH THREEPWOOD
For the murder of G.P LeChuck...
Also the use of witchcraft on one Largo LaGrande...
The thievery of clothing and medically prescribed hair supplements for such witchcraft...
Graverobbing...
Trespassing...
Larceny without a permit...
Exceeding FDA limit for rodent parts in a vichyssoise...
and Releasing a dangerous reptile into a populated area.
Also wanted for questioning regarding the disappearance of prescription eyewear.
Reward offered for information leading to the suspects apprehension.
Threepwood is to be considered armed and dangerous.
Premature entombment of a non-dead individual...
Unauthorised exiting from a penal institution...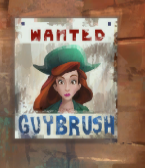 Threepwood placed an image of
Kate Capsize
onto the poster in order to fool the island guard into allowing him to roam freely.
Ad blocker interference detected!
Wikia is a free-to-use site that makes money from advertising. We have a modified experience for viewers using ad blockers

Wikia is not accessible if you've made further modifications. Remove the custom ad blocker rule(s) and the page will load as expected.