Griswold Goodsoup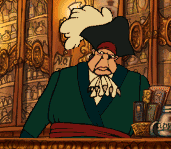 Griswold Goodsoup is the proud proprietor of the Goodsoup Inn. He was part of long line of restauranteurs that first made name for themselves by establishing a very popular line of soup kitchens in the Caribbean. He admitted to being fabulously wealthy, and enjoyed reminiscing about his ancestry. Despite his societal status, he was a warm and friendly individual, and welcomed guests with open arms.
Things took the turn for the worse when the island's volcano ceased its regular eruptions. Business dried up, and Griswold fell into a deep depression. He tried everything to sustain the flow of tourists to his inn, but all his efforts were in vain. He found himself drinking quite heavily, which led to severe hangover the following day.
He is related to Minnie "Stroni" Goodsoup.