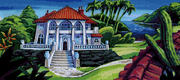 Governor Phatt's mansion was a roman-style mansion with a red-tiled roof in which resides Governor Phatt of Phatt Island.
It has at least two stories. Phatt permanently resides in his bedroom, mostly sleeping, and being occasionally fed by a feeding machine. The stairway leading to his bedroom is guarded.
Notable loot
Edit
The mansion is visitable in "MI2 Lite" but it is not required to finish the game. The player can interact with the guard and look around the bedroom, but there is nothing else to do there as the book doesn't appear.
Ad blocker interference detected!
Wikia is a free-to-use site that makes money from advertising. We have a modified experience for viewers using ad blockers

Wikia is not accessible if you've made further modifications. Remove the custom ad blocker rule(s) and the page will load as expected.