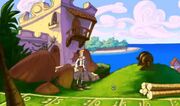 The Field of Competition was a grassy area located on beside the city of Puerto Pollo on Plunder Island.
Before joining Guybrush Threepwood's crew, Edward Van Helgen and Haggis McMutton required him to prove himself by winning challenges there.
McMutton prepared a caber toss competition, while Van Helgen fought Threepwood in a gentlemans duel.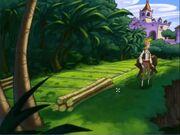 Ad blocker interference detected!
Wikia is a free-to-use site that makes money from advertising. We have a modified experience for viewers using ad blockers

Wikia is not accessible if you've made further modifications. Remove the custom ad blocker rule(s) and the page will load as expected.