Fester Shinetop was the Sheriff of Mêlée Island.
He was responsible for keeping law and order and had the authority to lock criminals in the town prison.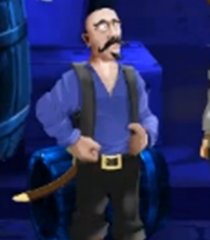 In truth Shinetop was a human disguise used by LeChuck in order to stay close to Governer Elaine Marley and keep the local pirates under control. While it is never confirmed, Otis believes that Shinetop had killed the previous well-liked sheriff and taken his place.
Even though she was not aware of the truth, Marley never really trusted Shinetop.
Ad blocker interference detected!
Wikia is a free-to-use site that makes money from advertising. We have a modified experience for viewers using ad blockers

Wikia is not accessible if you've made further modifications. Remove the custom ad blocker rule(s) and the page will load as expected.