Edward Van Helgen
Talk

0
625pages on
this wiki
Edward Van Helgen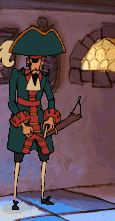 "Mine is the name that pirates fear the most. Edward 'Snugglecakes' Van Helgen."
Edward Van Helgen or 'Snugglecakes' was one of the trio of barbers (alongside Cutthroat Bill and Haggis McMutton). He was a famous pirate, who had been on many adventures and his name was feared by many. One such adventure was the doomed voyage of The Obsessivo-Compulsivo.
He felt that the sea had a music of its own and it was the reason that souls could not leave a life upon it. He gave up his life at sea when he realised he could enjoy music on land. For a time he spent time at docks and sang to passing sailors to satisfy his musical needs but ended that when he realised that it did not work.
Eventually he formed a barbershop quartet, auditions uniting him with Haggis McMutton, Cutthroat Bill and a tenor named Dominique.
He said he could never serve a captain who was not a gentleman and who was not his equal.
In order to recruit him, Guybrush Threepwood had to defeat him in a traditional duel, which was begun by slapping Edward with a white glove.
The dapper Van Helgen was a crack shot and easily bested Threepwood by shooting the weapon from his hand. Threepwood eventually won by choosing instead to duel with banjos. When Helgen began to prove that his skills far exceeded Threepwoods, Guybrush took a pistol and shot his opponents banjo. Edward willingly joined him having proved he was a true pirate gentleman after all.
His name is based on Eddie Van Halen, who is also a musical virtuoso. He is a master guitarist and plays in a similar style to Van Helgens duelling banjo.

Added by

MonkeydashUnderscore