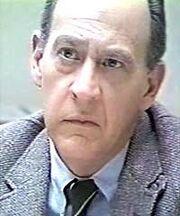 Earl Boen
born 7th November 1945 provided the voice of
LeChuck
.
Besides Monkey Island, Boen is best known for playing Dr. Peter Silberman in The Terminator, Terminator 2: Judgment Day and Terminator 3: Rise of the Machines. Besides Arnold Schwarzenegger, he is the only actor to appear in all three films.

Other film credits include the science fiction comedy The Man with Two Brains (1983), the drama Walk Like a Man (1987), and the comedy Chopper Chicks in Zombietown (1989).

He voiced a number of Star Trek characters. He played Nagilum in the Star Trek: The Next Generation Season 2 episode "Where Silence Has Lease". He has also provided voices to characters in Star Trek computer games, including Star Trek: Voyager - Elite Force and Star Trek: Bridge Commander.
Ad blocker interference detected!
Wikia is a free-to-use site that makes money from advertising. We have a modified experience for viewers using ad blockers

Wikia is not accessible if you've made further modifications. Remove the custom ad blocker rule(s) and the page will load as expected.