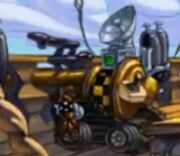 The Destructomatic T-47 armor-piercing Carnage Delivery System with auto-loading and fax-modem is quite possibly the most powerful type of cannon available in the Tri-Island Area.
Acquisition
Edit
Guybrush Threepwood gained one in Curse of Monkey Island while in pursuit of Captain Rottingham. He purchased it from Kenny Falmouth when he had earned enough loot for the high price.
Ad blocker interference detected!
Wikia is a free-to-use site that makes money from advertising. We have a modified experience for viewers using ad blockers

Wikia is not accessible if you've made further modifications. Remove the custom ad blocker rule(s) and the page will load as expected.