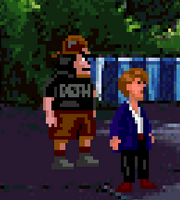 Chuckie
was the name of
Guybrush Threepwood
's "creepy brother". He hated and bullied Guybrush, and the reason was that Guybrush broke Chuckie's
Junior Ultra Soldier Commando Assault Vehicle
™.
LeChuck transformed himself into a human form to convince Guybrush they are brothers, asking Threepwood to remove his zombie mask. After this, they were transformed into children in a theme park.
It is unknown whether Threepwood truly has a brother named Chuckie.
Ad blocker interference detected!
Wikia is a free-to-use site that makes money from advertising. We have a modified experience for viewers using ad blockers

Wikia is not accessible if you've made further modifications. Remove the custom ad blocker rule(s) and the page will load as expected.