Charles DeGhoulash
was a lover of
Minnie Goodsoup
, and as a result, had his heart broken when she got married to
LeChuck
.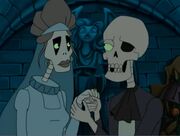 His body was hidden in a collapseable bed in the Goodsoup Inn bedroom. Fortunately, he catapulted his body into the Goodsoup family crypt, where he became united with his beloved Minnie. When they kissed, they both disappeared, leaving the wedding band on the crypt floor.
Like Minnie, Charles DeGhoulash is also named after food; to be exact, a type of stew.
Ad blocker interference detected!
Wikia is a free-to-use site that makes money from advertising. We have a modified experience for viewers using ad blockers

Wikia is not accessible if you've made further modifications. Remove the custom ad blocker rule(s) and the page will load as expected.