Cannibal
Talk

0
625pages on
this wiki
Cannibals are people that kill and eat others of their species.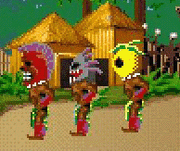 The Monkey Island Cannibals live in huts to the north of the island. They gavet their key to the Giant Monkey Head to Herman Toothrot in return for his Bannana Picker. They take Guybrush Threepwood prisoner and intend to eat hm but he escapes and in return for a voodoo token they agree to help him. The token was actually made by Lemonhead but he does not figure that Guybrush is merlely giving them something he owns. They take it to the mokey head as an offering. They give Guybrush the head of the navigator t o help him reach LeChuck's lair under the monkey head. When Guybrush bring them a root of root beer they grind it into root beer to help him defeat LeChuck.
List of Monkey Island Cannibals
Edit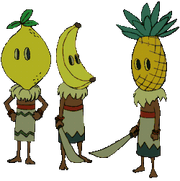 Lemonhead moves to Blood Island and joins a group of Cannibals turned vegans trying to please their volcano god. He is fooled by Guybrush's cannibal disguise and lets him join in the feeding of the volcano. Guybrush throws cheese into the volcano, who being lactose intolerant erupts. It is unknown as to the fate of the cannibals.
The Cannibals have also been known to leave memos around Monkey Island addressing grievances to either Herman Toothrot or LeChuck and his Ghost Pirate crew.
The Cannibals have written many books listed in the Phatt City Library, specifically Lemonhead.
Lemonhead was voiced in The Curse of Monkey Island by S. Scott Bullock.