Cabaña Boy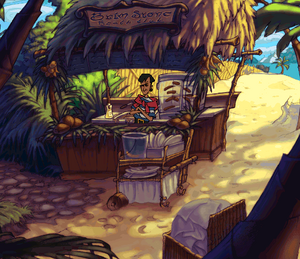 The Cabaña Boy was the vendor of the Weenie Hut at the entrance of the Brimstone Beach Country Club and Smorgy on Plunder Island. He was very particular of the country club's exclusivity, and snootily refused to allow anyone without a membership access to the beach, or to partake in any of its amenities, most notably the grill's Cooking Oil and towels.
Interaction
Edit
Once Guybrush managed to acquire a Brimstone Beach Club Card, the Cabaña Boy reluctantly allowed him to use the beach and the club's towels.
Guybrush later chases him away by whipping him with an ice-soaked towel. He ran from the hut and was not seen afterwards. With him gone, Threepwood was free to steal some Cooking Oil from the Cabana's grill.
If Guybrush read the Pappapishu plaque, the Cabaña Boy will shout the word when whipped.
Ad blocker interference detected!
Wikia is a free-to-use site that makes money from advertising. We have a modified experience for viewers using ad blockers

Wikia is not accessible if you've made further modifications. Remove the custom ad blocker rule(s) and the page will load as expected.