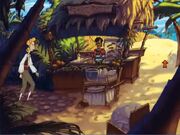 Brimstone Beach Club and Smorgy was a private beach that was located on the eastern shore of Plunder Island. It was part of the Leisure Lubber's Planned Community for Retired Pirates and was very exclusive.
Only members were allowed access to the beach and use of its amenities, including towels and food from the grill. The food sold included Chicken franks. (Chock full of processed beaks and wattles!)
The beach is appropriately named for its smouldering hot sand, which is almost impassable to anyone with bare feet.
It consisted of the beach itself and a cabana hut, which doubled as the entrance.
Initially, Guybrush Threepwood was unable to get through to the beach because the grumpy Cabana Boy only allowed members to access the beach.
Threepwood managed to gain access and use the clubs towels after getting a membership slip which formerly belonged to Captain Blondebeard.
At the other end of the beach, where Palido Domingo lay getting a tan there was an alternate entrance through a fence gate.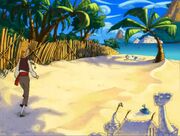 Known Members
Edit
Notable Loot
Edit
Ad blocker interference detected!
Wikia is a free-to-use site that makes money from advertising. We have a modified experience for viewers using ad blockers

Wikia is not accessible if you've made further modifications. Remove the custom ad blocker rule(s) and the page will load as expected.