Blondebeard's Chicken Shoppe is a chicken restaurant on Plunder Island that was famous for its various chicken dishes, slaw and biscuits.
It was managed by Captain Blondebeard, who called it "A treasure trove o' deep-fried fun!".
The restaurant came complete with a "drive-thru" speaker box, though it was rather difficult to comprehend what was being said. This led to most patrons entering the restaurant, but not be able to order as it was company policy to acquire a reservation first before being seated.
When the the legendary demon chicken, El Pollo Diablo, arrived on Puerto Pollo's shores, he frequently harassed the shop's owner, Captain Blondbeard, by freeing chickens from the shop's chicken coops. This led to a severe shortage of chickens for several months, and prompted Blondbeard to be highly creative with the preparation of his dishes.
Included on the menu was:
Known Patrons
Edit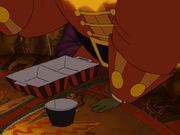 Notable Loot
Edit
Ad blocker interference detected!
Wikia is a free-to-use site that makes money from advertising. We have a modified experience for viewers using ad blockers

Wikia is not accessible if you've made further modifications. Remove the custom ad blocker rule(s) and the page will load as expected.